St. John's Status of Women Council "Disturbed" and "Outraged" by Mistrial in Snelgrove Case
The defence team representing former RNC officer Douglas Snelgrove says there was no way to avoid a mistrial declared in the court case yesterday.
The latest news has women's groups and others outraged after Snelgrove was acquitted on charges of sexually assaulting a woman while on duty three and a half years ago.
Snelgrove's lawyers say they did not ask for a mistrial so much as they acknowledged to the court that an error meant the jury was improperly constituted. A mistrial, according to Snelgrove's defence, was "the only available remedy."
Advocates are calling it yet another example of how the justice system does not serve survivors of sexual assault.
The executive director of the St. John's Status of Women's Council says they are "dumbfounded" by the outcome. Laura Winters says they are in equal parts "outraged" and "disturbed" by what happened.
She believes it will impact whether or not survivors of sexual abuse choose to come forward.
She says you don't have to wonder why women who experience sexual violence don't come forward.
---
Feds Continuing Talks with Husky to Make White Rose Work
Husky says the $320-million package for the oil and gas industry will do nothing to get the West White Rose project going for the next construction season in 2021.
2,000 jobs are at stake, making it the largest single project for offshore Newfoundland and Labrador. Company VP Jonathan Brown says the company was looking for an equity stake in the project that Husky believes would reap benefits for the province. He says if the ask is too big, then they're willing to discuss other options.
The province has been clear, indicating we do not have the fiscal capacity to become an equity partner in West White Rose, but federal Natural Resources Minister Seamus O'Regan says they are talking with Husky.
He told reporters yesterday that he had spoken with Husky's Rob Peabody, indicating that Ottawa wants to make White Rose, and West White Rose work.
Meanwhile, Newfoundland and Labrador has established an oil and gas recovery task force to decide on how best to spend the money. Premier Andrew Fury says that funding will have no strings attached.
The formal agreement will be signed on Monday, according to the Premier.
Noia and CAPP say Impact of Money Will be Seen in Details
Industry stakeholders are cautiously optimistic, as how the money will be spent has yet to be determined.
CEO of Noia, Charlene Johnson, says she won't know the difference the money will make until more detail is provided. She says strategic investments must be made in order to stretch the money as far as possible.
Paul Barnes of CAPP echoes that sentiment. He says how the money is used is key to how much the industry will prosper, but he is hopeful good will come out of it.
Political Parties Unimpressed with Announcement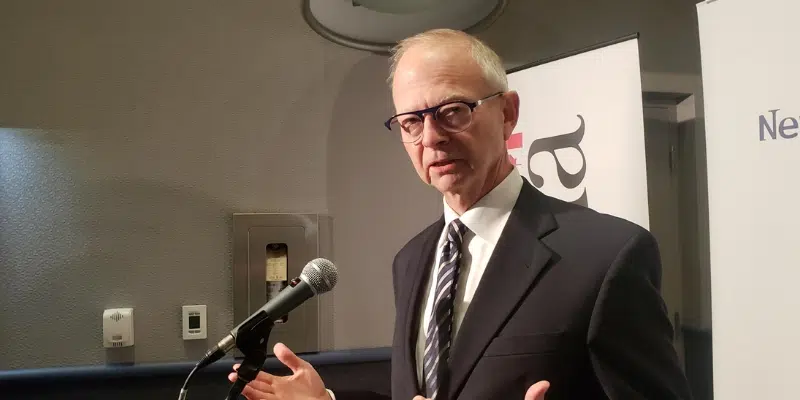 Opposition leader Ches Crosbie, however, was not impressed with yesterday's announcement. He says because the task force has 90 days to decide how to use the money, it won't put people to work anytime soon. He says the 20,000 affected families across the province should be angry.
Federal Conservative Party leader Erin O'Toole is accusing the Liberals of 'leaving behind' workers in yesterday's announcement.
He says it contained no specifics, timelines, or details on supports that the industry has been asking for. O'Toole says their slow response has already cost too many jobs.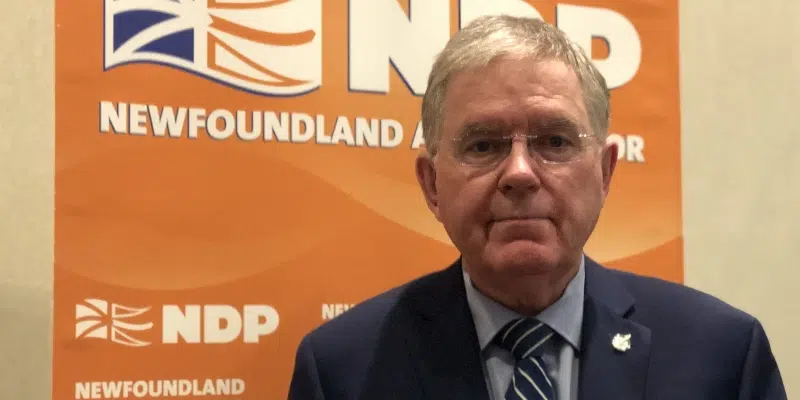 Meanwhile, the NDP member of parliament for St. John's East says the announcement missed a few key points.
Jack Harris says while the funding is comparable to aid offered in Western Canada earlier this year, it is unclear how it will help affected oil and gas workers in this province.
Harris says he was also shocked to hear the $320-million is not new money, but instead comes from dividends on the federal government's Hibernia share.
Harris says more could have been done.
---
Chair of the Discovery Health Care Foundation in Clarenville Walking 52 km to Raise Money for Healthcare in Area
One man is taking it upon himself to help offset some of the donations lost for health care in the Bonavista and Burin region.
Kevin Parsons is the chair of the Discovery Health Care Foundation at the Dr. GB Cross Memorial Hospital in Clarenville. He's decided to embark on a Walk for Health Care starting today to help raise funds for the foundation.
Parsons is going to walk from his home in Black River near Swift Current in Placentia Bay, all the way to Clarenville – a journey of 52km.
He is hoping to raise $1,000 per kilometer walked.
Parsons says he's walking in memory of his brother Terry, who passed away five years ago following a battle with pancreatic cancer.
More information can be found through the Discovery Health Care Foundation's Facebook page.
---
Lions Club VOCM Cares Radio Bingo Returning the End of November
Get your dabbers ready; the Lions Club VOCM Cares Radio Bingo has a date for its grand return.
The first game will hit the airwaves on Saturday, November 28.
Proceeds from radio bingo support local charities and provide support for local Lions Club community initiatives.
Follow VOCM Cares Bingo on Facebook for further updates.
---
St. John's Residents Warned of Disposing of Hazardous Waste with Regular Garbage
Officials with the capital city and the St. John's Regional Fire Department are asking residents not to dispose of household hazardous waste in the regular garbage.
This after 31 fires at the city's landfill site since January of 2019.
Dean Foley, Acting Deputy Chief with the St. John's Regional Fire Department, says three of the fires were so serious that firefighters had to be called in. That creates a serious safety hazard for firefighters and staff at the landfill. He was the Platoon Chief on duty when the St. John's Regional Fire Department was called out to a major fire at the landfill in the early morning hours of April 7th.
Officials say most of those fires were caused by the improper disposal of household hazardous waste, including lithium batteries, marine flares and household chemicals, like those used to keep pools clean. The April fire says Foley presented great safety hazards to the firefighters and heavy equipment operators working that night.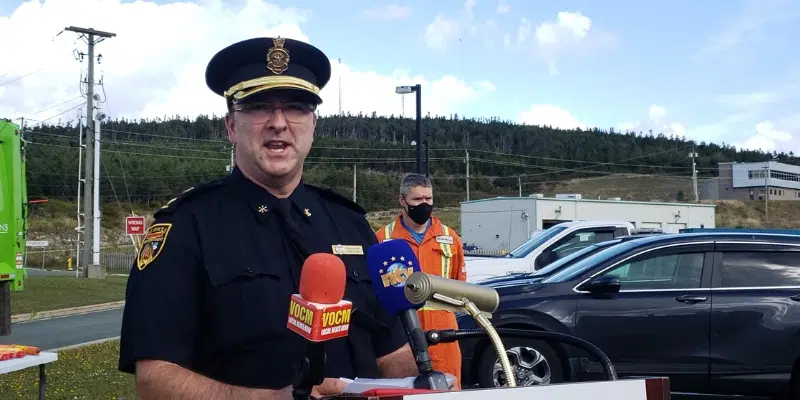 ---
Fridays for Future Climate Strike Attracts Hundreds
Hundreds of people gathered in downtown St. John's yesterday afternoon to collectively call for action on climate change.
The strike, organized by Fridays for Future St. John's, was the latest in a series of demonstrations as part of the Global Day of Climate Action.
Demonstrators called on provincial and municipal governments to stick to the climate action plans they've developed, for the province to transition away from its reliance on offshore oil, and for governments to meet their goals as presented in the Paris agreement.
The group marched a circuit around St. John's streets with a police escort before gathering at the Colonial Building, respecting physical distance, for a series of speeches.
The event was streamed online for those who could not attend.
---
St. John's Looking at Whether Privatization of Mile One is in Best Interest of Residents
The businessman who wants to buy Mile One says he would not require any subsidy and would pay fair value for the building. However, the owners, the City of St. John's, say the subsidy is also responsible for generating economic spinoff.
Newfoundland Growlers owner Dean MacDonald first mentioned the idea last spring. The city is now looking at the concept of privatization of the money-losing facility, and if it does decide to go that route, it would involve a request for proposals.
MacDonald has no intention of using the building for anything but its intended use. He would spend about $25-million to refurbish and expand the building.
Councillor Jamie Korab, the chair of the board of St. John's Sports and Entertainment, says they won't meet with MacDonald because it could tarnish the public RFP process. They expect to have a clearer picture of whether it would be in the best interests of residents to pursue privatization in a month or so.
He says the Convention Centre in 2019 received a subsidy of about $630,000 but returned an economic benefit of almost $14-million.
---
Receive Treats, Not COVID: Government Releases Trick-or-Treating Guidelines
The provincial government has released its guidelines for safe trick or treating this Hallowe'en.
Public health officials say if you are feeling unwell, or self-isolating for any reason, ask someone else to hand out treats.
Wash your hands or use hand sanitizer before handing out treats, and consider wearing a non-medical face mask when handing out goodies.
Drop the treats directly into a child's bag, and consider wrapping treats in individual bags prior to Hallowe'en night to avoid concerns about viruses on the packages inside the bag.
Kids going door-to-door should stay home if they are unwell and they should wash their hands before leaving home, after they return home, and prior to eating any treats.
Limit close personal contact and trick-or-treat with people from your own bubble. Maintain physical distancing of two metres between yourself and members of other bubbles and take turns to avoid mixing with other bubbles.
The full list of guidelines can be found on government's COVID-19 website.
---
Community Sector Council Concerned about Impacts of COVID and WE Scandal on Non-Profits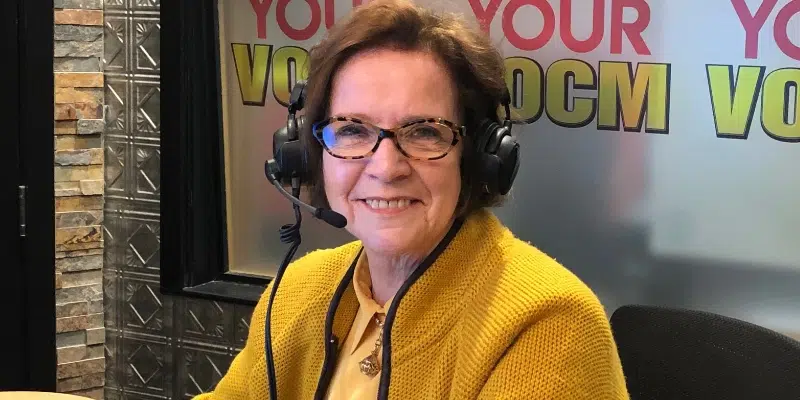 Non-profits across the country have been feeling the devastating impacts of COVID-19, and now that has been coupled with the trickle-down effects of the WE scandal.
A recent Angus Reid survey found that two in five Canadians say they are giving less since COVID-19 and are more cautious about who they are giving to because of WE.
Penny Rowe, CEO of the Community Sector Council, is concerned about this as organizations had already seen "significant losses" as the pandemic was really starting to take hold.
Some research they did in the metro area indicates that over half of an organization's revenue comes from non-government sources.
Rowe says non-profits lack an oversight body to regulate how they are run. She likens them to small businesses in that they run themselves with a few basic guidelines.
"When organizations are…well run, they're beautiful things," she says. However, the WE scandal points out how significant problems can occur if there are problems with the board.
---
Community Food Sharing Association Asking for Support as Annual Food Drives Cancelled
COVID-19 has had a devastating impact on not-for-profits in the province, and the restrictions surrounding the virus has the Community Food Sharing Association worried about one of their busiest times of the year.
Executive Director Eg Walters says a lot of the food drives that occur during Thanksgiving and Christmas won't be happening this year. Further, Walters says he hasn't heard anything on the status of the downtown Santa Claus parade – which has been the source of many monetary and food donations over the years.
Walters is asking for community support as the need ramps up during the holiday season.
He says the support is needed no matter where you are in the province.
---
Woman Charged with Assaulting Two Police Officers in Corner Brook
A Corner Brook RNC officer, responding to a disorderly conduct call involving a woman, suffered minor injuries in an altercation with the suspect.
It happened last night at about 8:30 on Gillams Road in the west coast city.
Upon initial contact, the woman was warned by police and advised to leave the area. However, about an hour later, she came back and continued to behave in a disorderly manner. As a result, the 23-year-old Corner Brook resident was arrested and charged with mischief. But she resisted and during the course of the arrest, assaulting the two police officers. She also had a concealed weapon at the time of the incident.
The accused has now been charged with three counts of assaulting a police officer, mischief, resisting arrest, possession of a weapon dangerous to the public, and carrying a concealed weapon.
Corner Brook authorities tell VOCM News that the suspect is still in custody pending a psychiatric assessment.
---
Rotational Workers Cautioned After COVID-19 Outbreak at BC Coal Mine
Rotational workers at the Teck Coal Mine in Elkford, British Columbia, are advised to monitor for symptoms following an outbreak of COVID-19.
Health officials are closely monitoring the situation. Workers who have returned to this province since Monday, August 31, must call 811 to arrange for testing.
The Department of Health advises that newly-instated rules for rotational workers from NL who work outside Atlantic Canada do not apply to those working at sites where there is an ongoing outbreak.
Meanwhile, the outbreaks recently declared in Alberts at the Canadian Natural Albian oil sands, Syncrude Mildred Lake oil sands, and Suncor base plant site remain in effect.
---
Health Officials Deny Rumour of Child Testing Positive for COVID-19
The Department of Health says there's no truth to recent rumours that a child in this province tested positive for COVID-19.
The department was made aware of rumours circulating on Friday that a case was identified but not reported. It asserted that was not the case, and encouraged residents to rely only on trusted sources of information.
The department no longer issues day-to-day updates via news release unless there is a new case to report. However, the latest information is updated daily via the provincial government's COVID-19 website.
To date, there have been 272 cases of COVID-19 in Newfoundland and Labrador. Over 40,000 people have been tested for the virus.
---
Brendan Paddick to Lead Team on Rate Mitigation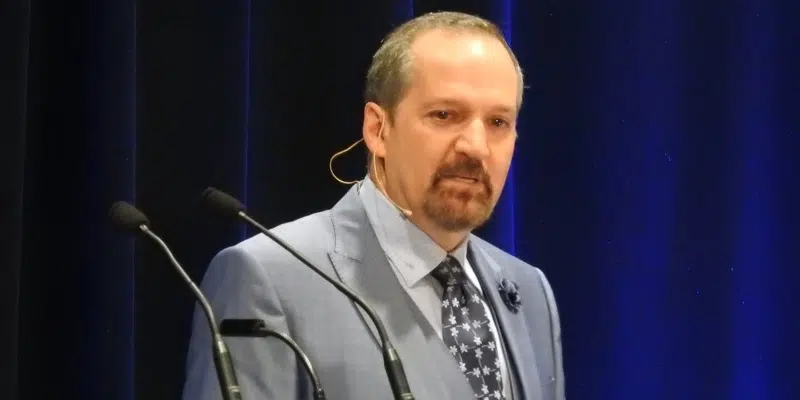 The provincial government has released the Terms of Reference for a Rate Mitigation Team led by Brendan Paddick—who is currently on a leave of absence as Chair of Nalcor.
The Rate Mitigation Team has a mandate to wrap up negotiations with the federal government to allow fiscal flexibility for the province on Muskrat Falls, and support what is being called clean, affordable, and stable energy.
One of the key objectives is rate mitigation for Newfoundlanders and Labradorians who were previously expected to pay down the project through their electricity rates.
View the terms of reference below: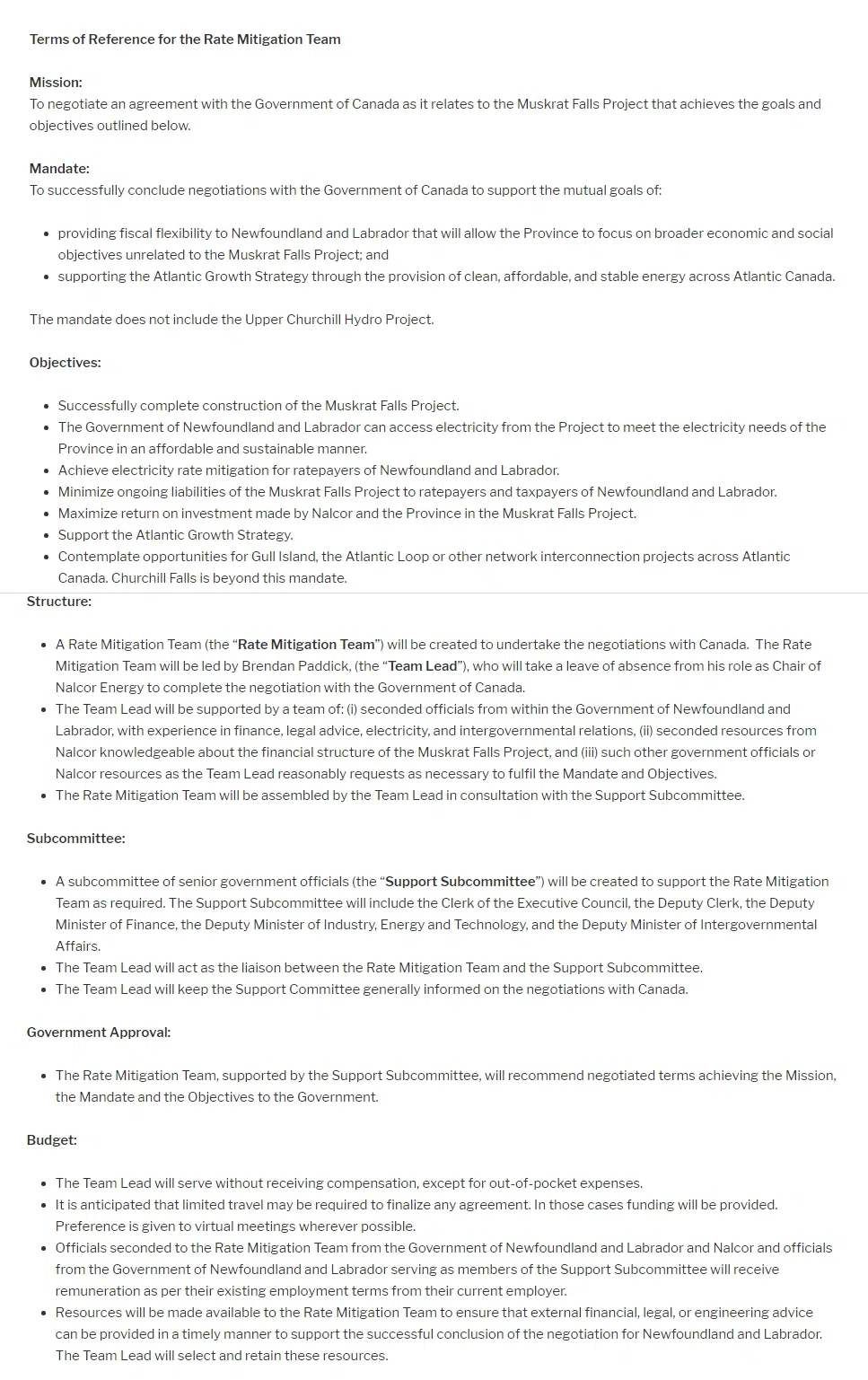 ---
Robbery at Mount Pearl Credit Union Under Investigation
The RNC has released images of the person believed responsible for a bank robbery in Mount Pearl this week.
A man entered the Credit Union on Commonwealth Avenue on Wednesday afternoon and demanded money from the teller. He collected an amount of cash and fled the area.
It's believed that the man entered a black Honda sedan which then traveled south along Commonwealth.
He is described as six-feet tall with a medium build. He was wearing a dark puffer jacket at the time, with a black neck-gaiter face mask, a black baseball hat, and was carrying a reusable Sobey's bag.
Anyone with information that could help the investigation is asked to contact the RNC at 729-8000 or Crime Stoppers at 1-800-222-8477.
---
$320-Million Federal Funding Slated to Support Offshore NL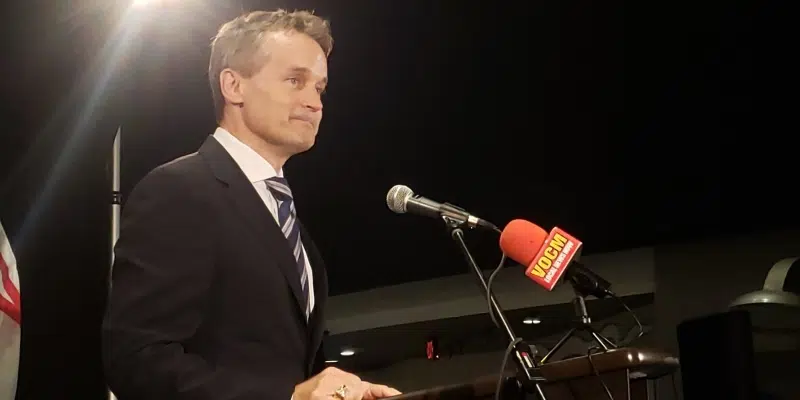 The federal government has announced $320-million to support jobs and investment in the offshore industry hard-hit by the pandemic and a drop in global oil prices.
The industry employs some 6,000 people directly and thousands more in supporting industries. It contributed more than $22-billion in royalties to the province to the end of 2019.
Federal Natural Resources Minister Seamus O'Regan made the announcement this afternoon at the Johnson GEO Centre.
O'Regan says the goal is to develop what he calls a "clean tech hub" for Canada and to ensure a sustainable future for the Newfoundland and Labrador offshore, which produces lower-emitting oil.
A task force, co-chaired by Bill Fanning and Karen Winsor, will be formed to make recommendations on how to spend the funding.
The Newfoundland and Labrador offshore will reach the 2-billion barrel mark this weekend, according to Avalon MP Ken McDonald.
The Canadian Association of Petroleum Producers says they are hopeful today's announcement will make a difference, but say it's lacking in detail as operators make investment decisions in the coming weeks and months.
In a statement released this afternoon, CAPP says the situation facing the industry is "dire" with thousands of jobs and projects at risk.
CAPP says more detail is needed to determine if the support will actually help operators overcome the "critical challenges they're facing."
PC Leader Ches Crosbie says he is angry, and there was nothing in today's announcement to put people back to work.
Meanwhile, NOIA is welcoming today's money from the federal government towards the oil and gas sector.
CEO Charlene Johnson says the focus now must be how we can use that money to advance the industry and maximize its potential. They plan to work with the province to grow that money into an even bigger pot of money to help create a sustainable industry.
---
Correction: An earlier version of this story indicated that Brendan Paddick would be involved with a task force on today's funding—however, he will act as chair of the team on rate mitigation discussions. VOCM News regrets the error.
---
---
Man Dead Following ATV Incident in Catalina
A 44-year-old Catalina man is dead following an ATV crash in the community earlier this week.
Bonavista RCMP were called around 10 p.m. Tuesday after the Catalina Fire Department discovered a man unresponsive on East Point Road.
Police say an ATV was found a short distance away, still running.
The man was rushed to hospital but was pronounced deceased on arrival at the Bonavista Peninsula Health Care Centre.
RCMP say the ATV was upright and showed no damage. A helmet was found on the roadway not far from the victim and police believe the man fell from the machine.
The Chief Medical Examiner's Office is investigating the exact cause of death.
---
Police Investigating Possible Child-Luring Attempt in Burin
RCMP on the Burin Peninsula are investigating a report of possible attempted child luring in the Bull Cove area of Burin earlier this week.
Police were informed of the Sunday incident on Tuesday of this week.
A young boy, walking along Harbour Drive, was approached by a vehicle driven by a man, who asked if he wanted a ride. The child did not respond and kept walking. The vehicle drove on, but turned around and headed back in the direction of the boy, who then ran into the driveway of a relative.
The vehicle is described as an older model red Chevrolet car. Police say they are unsure of the intent of the driver, but they're asking residents to keep an eye out for a vehicle matching that description and to report any suspicious activity to police.
RCMP are hoping to identify the driver to speak with him about the incident.
---
Women's Rights Advocates Outraged Over Mistrial in Snelgrove Case
Advocates for women's rights in the province are expressing their outrage over the mistrial in the case of RNC Officer Doug Snelgrove.
Advocate Jenny Wright says she is outraged by the verdict, which she says sends a "disheartening message" to all survivors of sexual assault not to come forward.
She says we need to ensure "such silly slips such as a judge accidentally dismissing two of the wrong jurors in the wrong order does not put a victim through this kind of trauma ever again."
---
Additional Mobile Crisis Response Teams Established in the Province
Additional mobile crisis response teams have been established across Newfoundland and Labrador as part of a new partnership between the provincial government and RCMP.
Each team consists of a mental health care worker—such as a social worker or registered nurse—as well as a police officer, which responds to those in crisis.
The service has been active for some time in St. John's, Corner Brook, and Lab West with resources from the Royal Newfoundland Constabulary. However, the new set up will also feature teams in Gander, Grand Falls-Windsor, and Happy Valley-Goose Bay.
On top of that, Corner Brook's response teams will extend their reach as far as Gallants and Deer Lake.
Since forming, mobile crisis response teams have responded to over 5,000 requests for assistance.
---
First Light Applauds Indigenous Rights Declaration as Important First Step
The City of St. John's has signed a declaration in support of the rights of Indigenous Peoples, and while that is being praised as an important first step, advocates are most looking forward to seeing progress on the promises made.
First Light NL, a non-profit that serves the Indigenous population of the province, was the co-signer of the document.
Stacey Howse, Director of Programs at First Light, says now that the document has been signed it is time for action.
The document mentions a number of topics, such as action into the report on missing and murdered Indigenous women. Howse hopes to see progress on those fronts. In addition, they are planning to create a community action plan.
---
Long-Awaited Announcement on Aid for Oil and Gas Industry Expected Today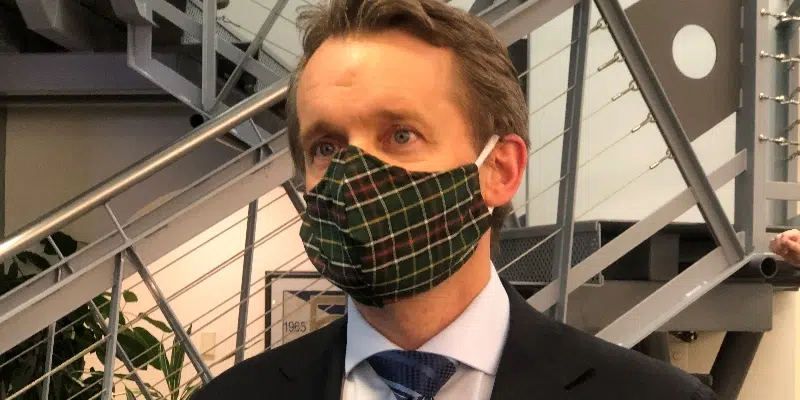 The oil and gas industry finds out in a matter of hours what the federal government will be doing for them.
Federal Natural Resources Minister Seamus O'Regan and government officials will make the long-awaited announcement regarding the province's offshore this afternoon at 2:15 p.m. in St. John's.
Representatives from the provincial government and the offshore industry are expected to be on hand for the announcement at Memorial University's Signal Hill Campus.
O'Regan dropped hints about what the federal government's role might be on VOCM Open Line with Tim Powers yesterday. It follows an offshore exploration initiative announced by the provincial government yesterday. Minister Andrew Parsons says the policy will allow all future bid deposit forfeitures to be reinvested.
It will make those funds available to encourage companies to drill more wells, in the best prospects, in the shortest time.
Meanwhile, Husky officials will be watching the announcement very closely. The company had been seeking some form of an equity stake in the West White Rose project, construction on which was 60 per cent complete when the site shut down earlier this year due to COVID-19.
Husky announced earlier this month that the project was under review, indicating that it had made a proposal to government leading to speculation about the amounts involved.
Senior Vice President, Jonathan Brown, won't talk specific numbers but believes a solution is workable. He says an equity stake will get people back to work and will result in benefits to the province for 15 years or more.
---
Arrest Warrant Issued for Marystown Man After Officer Witnesses Alleged Assault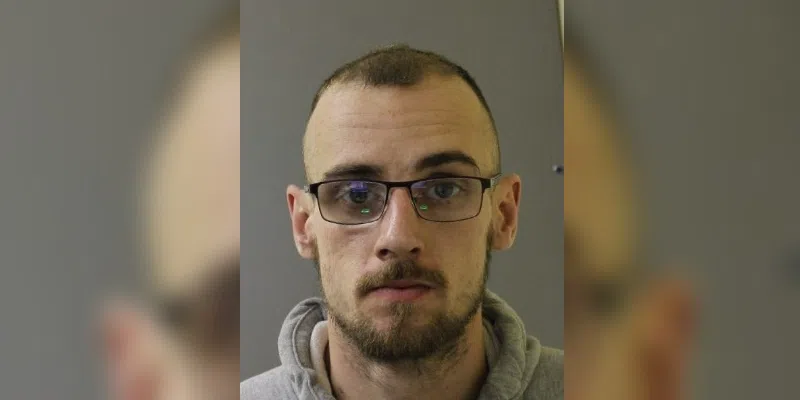 An arrest warrant has been issued for a Marystown man wanted in connection to an alleged assault, witnessed by an off-duty police officer. Police say Tyson Young is "actively avoiding arrest."
RCMP say on September 22nd, an off-duty officer, in his personal vehicle, witnessed the driver of another vehicle behind him on McGettingan Boulevard assaulting a passenger inside.
Both occupants were known to the officer who stopped his vehicle and approached the driver Tyson Young. He informed Young about what he had just witnessed and told him to stay put while he contacted the local detachment for back-up, but Young sped away instead.
RCMP located the alleged victim and ensured their well-being.
Young, who was already before the court in connection with previous charges, is now wanted on charges of assault, obstruction of justice, and failing to comply with a court order.
---
Downtown Landmark Restaurant Closing After More Than 60 Years in Business
The owner of The Big R Restaurant on Harvey Road, which closes this weekend, calls the occasion "bittersweet".
The Big R has been a favourite destination for a feed of fish and chips for 60 years. It was destroyed by the Harvey Road fire nearly 28 years ago, and was the first to rise from the ashes after the entire block was leveled.
Owner Karen Forward Lambert, busy getting ready for the lunch rush, says it was time for her to "move on."
The Harvey Road location closed on Sunday, but the Blackmarsh Road location will remain open.
Earlier Story
A downtown landmark that rose from the ashes following the Harvey Road fire nearly 28 years ago will soon be no more.
The Big R Restaurant on Harvey Road, famous for its fish n' chips, is closing its doors on Sunday after 60 plus years in business.
The restaurant and surrounding neighborhood block were destroyed by fire on a windy night in December of 1992. It was one of the first businesses to rebuild after the devastating conflagration.
The Big R, like many other businesses across the country, was forced to close in March due to COVID-19 but reopened in May. 'For sale' signs went up on the building over the summer.
Last night, the restaurant announced the sad news that its Harvey Road location will be closing for good this weekend.
The Blackmarsh Road location will remain open for anyone looking for their feed of fee 'n' chee.
---
Transit Union Rejects Latest Offer; Metrobus Strike Could Happen October 5.
Metrobuses could be parked as early as October 5. The 109 drivers with the Amalgamated Transit Union voted yesterday to reject the latest contract from the City of St. John's with an 82 per cent majority.
Drivers are looking for similar benefits as enjoyed by other city workers, such as a day-and-a-half sick leave per month instead of one day, and a similar severance formula.
Union official and driver Paul Churchill says they are close to a deal. He's calling on the city to get back to the bargaining table.
Churchill hopes Councillor Dave Lane will do "the wiggle" and get back to the table, a reference to Lane saying he thinks there is some wiggle room.
---
Shortage of Liquid Asphalt Delaying Work Along Busy Section of TCH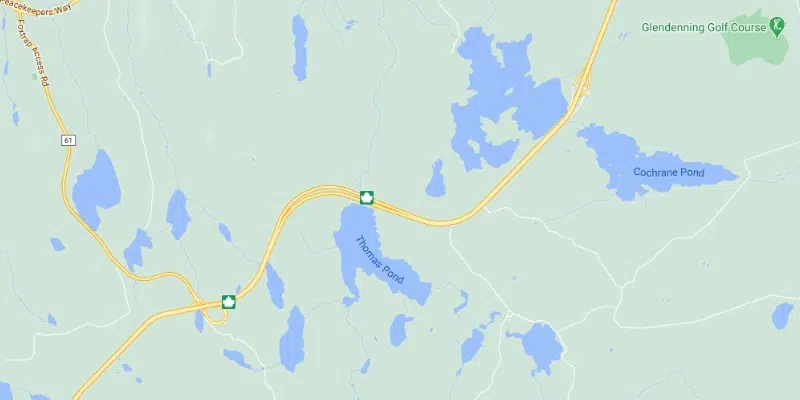 A shortage of liquid asphalt in this province means work along a busy portion of the Trans-Canada Highway will not be finished until next month. But officials assure that the work hasn't been forgotten.
An eastbound portion of the TCH near Thomas Pond has been reduced to one lane for several weeks. Drivers have expressed frustration with the associated slowdowns.
A spokesperson for the Department of Transportation and Infrastructure says repairs to the concrete are required along the route. The lane reduction was necessary as it takes time for the concrete to cure.
However, a fresh shipment of liquid asphalt will not arrive in-province until early October, meaning the road won't be back to normal for some time.
The department says both lanes will be reopened in the area to ease traffic congestion, but the speed limit will remain at 50 km/h until the paving is completed.
---
Recruiting Custodial Staff for Provinces School Buses Still Ongoing
Work is still be doing done to recruit custodial staff to manage the cleaning of the province's school buses.
Several new buses have been purchased for the province to use, and government hopes to have them ready for the road as soon as possible.
NAPE represents many of the bus operators across the province.
President Jerry Earle says he can't comment on the entirety of operators in the province because in some areas the service is contracted out.
He says progress is being made to get the appropriate number of staff in place.
From the updates Earle has received, he says some staff have been put in place, and there are a limited number of areas still in the process of recruiting.
---
$15 Minimum Wage Not the Job Killer People Think says Advocate
An advocate for a $15 an hour minimum wage in the province is allaying fears that such an increase would negatively affect businesses and, in turn, not have much of an impact on the standard of living.
Mark Nichols is the community organizer behind the group 15 and Fairness NL.
He calls such fears a "wonderful myth." He admits that in some cases there will have to be price increases, but argues that other jurisdictions that have increased the minimum wage have not seen the hardships people are discussing.
Nichols says the three provinces with a "significantly higher" minimum wage have lower unemployment rates and higher labour participation rates. He says it's not the "job killer" people think it will be.
---
Supreme Court Rules in Favour of Nunatsiavut Government in Voisey's Bay Royalty Dispute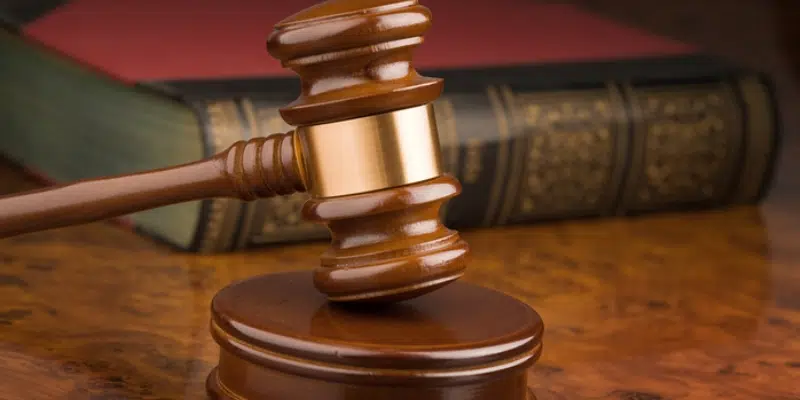 The Supreme Court has ruled in favour of the Nunatsiavut Government in a dispute with the provincial government over royalties from the Voisey's Bay nickel project.
In his decision, Supreme Court Justice Vikas Khaladkar declares that the calculations for royalties paid to Nunatsiavut Government should not reference costs accrued outside the Labrador Inuit Settlement Area—specifically referencing Vale's Long Harbour refining facility.
Justice Khaladkar also ruled that the Nunatsiavut Government is entitled to a five per cent share of the funds received by the province as a result of amended agreements with the developers in 2013 and 2014. That includes five per cent of the Community Investment Fund negotiated in said amendments.
Khaladkar states that the province breached its duties to the Inuit by failing to advise them of a decline in mineral taxation revenues by locating the refining plant on the island. It also failed its duties by not consulting with the Nunatsiavut Government ahead of negotiations.
Minister Tony Andersen says the Nunatsiavut Government is pleased by the decision and says they are hopeful that they will now be able to work towards a renewed relationship with the provincial government.
---
CAPP Applauding Incentives for Offshore Exploration
The Canadian Association of Petroleum Producers is applauding incentives for companies to continue bidding and exploring for oil offshore.
The move by the provincial government will allow deposits on future bids to be reinvested rather than turned over to the government if the exploration doesn't proceed.
The Petroleum Producers' Director for Atlantic Canada and the Arctic, Paul Barnes, says while it's good news on the exploration side, there's still much work to be done in terms of development.
He says they are still seeing a lot of offshore projects either stalled or put on the back burner for a while, so they are hoping for more news today from Ottawa on the development side of things.
---