Don Cherry Gone from Coaches Corner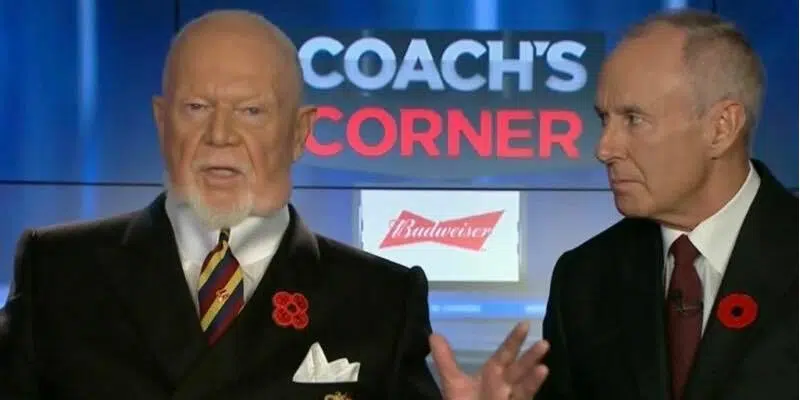 Sportsnet says Don Cherry has immediately stepped down from his role on Coaches Corner.
In a statement, Sportsnet President, Bart Yabsley says it is the right time for Don Cherry to immediately step down from his position on Hockey Night in Canada.
Sportsnet says that Cherry made divisive comments on Saturday night's broadcast of Hockey Night in Canada that does not represent their values or what Sportsnet stands for.
Yabsley says Cherry is synonymous with hockey and has played an integral role in growing the game over the past 40 years.
Sportsnet thanked Don for his contributions to hockey and sports broadcasting in Canada.
Cherry's co-host Ron MacLean apologized for the comments, and for sitting idly by on Sunday night's broadcast of Rogers Hometown Hockey.
---
Harbour Grace Recording its Oral History
The chairperson for the Harbour Grace Board of Culture, Innovation and Business says there is no time to wait when it comes to gathering oral history from community members.
That was the incentive for a new 12 week project underway in the town called the "Oral History of Harbour Grace."
Jack Rose says the elderly people who have lived and experienced the province's rich history are the only way we have of figuring out a lot of our past.
He says so while the people are still alive, the board thought they cannot wait another day, another month or another year because they will lose the valuable resources and stories that they shouldn't let go.
---
MOWI Promises Better Practices in Wake of Salmon Die-Off
The company at the centre of the mass mortality of 2.6 million salmon in Fortune Bay is pledging to do things differently in the future.
MOWI, parent company of Northern Harvest Sea Farms, says they did not live up to their own or the government's expectations.
The company promises to do better.
All new and current nets will have a total depth of 25 meters or more for optimal water temperatures. MOWI says all sites will have aeration systems to regulate temperature, their employees will be better trained for emergencies, and the company is creating a mass mortality response plan.
They say they will continue to work with the federal government to secure timely access to boats and equipment to respond to emergencies in the future.
As well, Northern Harvest says they will keep better data.
The commitments were made to government during a meeting a few days ago, at which the CEO for MOWI apologized for the incident, but left without speaking to the media.
---
No Arrests Following Reports of Possible Abduction in Kenmount Terrace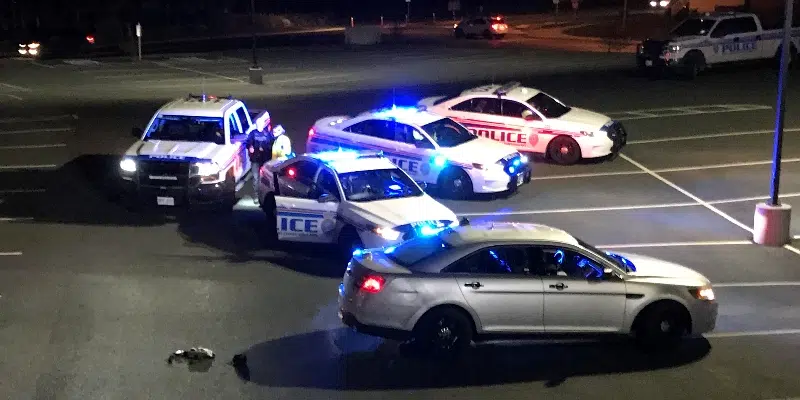 There were no arrests made after a number of police vehicles swarmed St. Michael's Church in Kenmount Terrace on Sunday evening.
Before 8:00 p.m., police received a report of a possible abduction of a man.
That led police to Kenmount Terrace where police located a vehicle believed to be involved in the St. Michael's Church parking lot.
After safely detaining the occupants of the vehicle, the man reported to have been in danger was found to be safe.
All people were released, and the man left the area with the help of police.
The investigation is ongoing.
Earlier Story:
Heavy Police Presence in Kenmount Terrace.
---
Thousands Gather for Remembrance Day Ceremonies in St. John's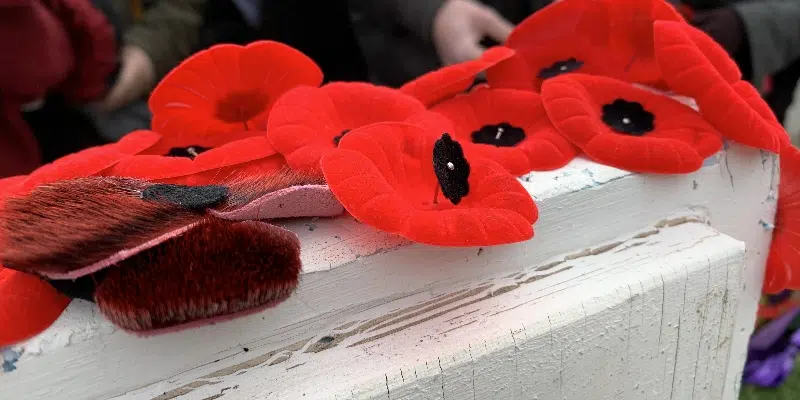 A few thousand people gathered at the War Memorial in Downtown St. John's for Remembrance Day ceremonies this morning.
The crowds started to assemble at the site shortly before 10 a.m.
Those in attendance fell silent at 11:00 for a moment of silence for all those who have served, and who continue to serve our country.
Former Deputy Chief of the RNC and war historian, Gary Browne, was in attendance for this morning's event.
He told VOCM's Fred Hutton today's ceremony is history making as it is the first one with the War Memorial declared as a national historic site.
Browne says it is important to gather at such a significant place.
He says the ceremony isn't just about remembering an event that happened 100 years ago, it's about remembering our people and our DNA.
---
WWII Veteran Recalls The Feeling of Going to War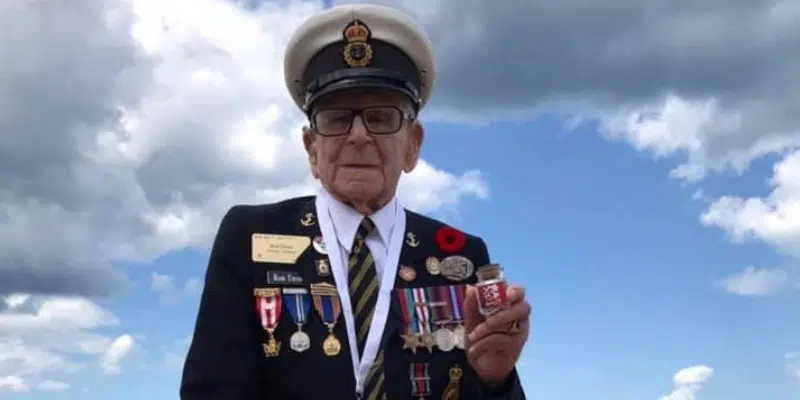 A World War Two veteran from this province still remembers what he was feeling when he found out he was going to war.
98-year-old Roderick Deon was a hull technician and a member of the Canadian Navy. His father fought in World War One.
In an interview on the VOCM Sunday Drive with Darrell Power, Deon says when he got the call to go to war, he first thought of what was said when his father would talk about the first World War, so he thought he had an idea of what to expect.
As a hull technician, Deon says he was never too fussy about joining the army.
He says a hull technician would fit in with the Navy, but not the army, and the army sooner or later would get him anyways, so he did what he wanted to do in real life.
He says they were moved to work in the English Channel to keep the U-Boats away in preparation for D-Day.
Deon says the Normandy invasion was supposed to be on June 5th, but it was such a bad day and too rough so they waited. He says over 6,500 vessels took part.
---
Dragons' Lair Competition Developing More than Just Business Acumen for Students
A local competition for junior high and high school students helps participants gain skills outside the classroom.
Seven schools from across the province were the finalists in a dragons' lair provincial competition offered through Skills Canada NL.
President Christine Greene says having the students come together from different parts of the island offers them a unique opportunity.
She says the competition is a way for students to showcase their talents and abilities with confidence.
She says for some of the students, it could be "their moment." Greene says it could be a moment for students to shine, to learn about themselves and the world around them.
Students Alyson Clouter and Daniel Lander, say the ENTER:preneur competition gives them a new way to build skills.
Clouter says you learn a lot of different things, like public speaking. She says it has nothing to do with what she wants to do in school directly but there are so many skills that can transfer over.
It was Lander's first time at the competition and he says he looks forward to having more experiences like it in his future. He will be attending the provincial competition later this month.
---
St. Peter's Church Receives Praise as "Little" Concert Venue
Organizers call it one of the best "little" concert venues in metro in terms of access, comfort and sound.
"Tis The Season" in Upper Gullies features some of the top names in the music industry. They'll be doing a variety of numbers at the concert, which takes place Sunday, Nov. 24th at St. Peter's Church.
Host Michelle Noftall says this is their second year and even though the church has a capacity of about 200, they limit ticket sales to 150. At $20 apiece, Noftall says it's a bargain.
In addition to Noftall, the lineup includes Craig Young, Sandy Morris, Mark Hiscock, Ian Foster, Nancy Hynes, D'arcy Scott and Reagan Scott.
Tickets are available at Stuckey's Orange Store in Kelligrews or from the church.
---
Young Poppy Campaign Volunteer Remembers Family Members Who Served
There are many reasons why people volunteer for the Royal Canadian Legion Poppy Campaign.
While many students enjoyed a day off on Friday for professional development day at schools in the province, 11-year-old Alexander Taylor of Newtown Elementary volunteered at the Poppy Campaign.
Taylor says he volunteers and wears a poppy to remember his great grandfathers Victor Taylor and Greg Barrett, and his great uncle Charles Taylor who fought in WWI, and his great uncle Jim Kavanagh, who fought in WWII.
He says wearing a poppy is important because to him, it helps people remember those who fought for our freedom.
Taylor will lay a wreathe today in memory of those family members.
Joining him will be his father, David Taylor, who joined him with the campaign. Taylor says the legion volunteers say there is a need for youth.
He says right now the youth are needed at the legion and the legion volunteers would be very pleased with more youth showing up to volunteer with them.
---
Some Soldiers' Stories of War Too Personal for Documentation: Historian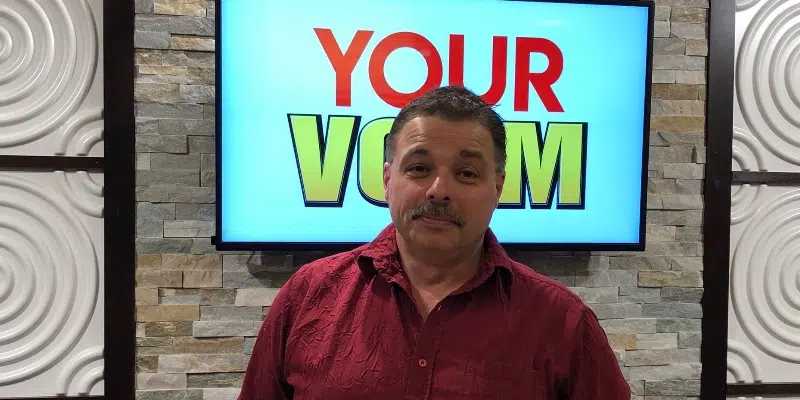 War is hell.
A man who has compiled the history and stories of members of the Royal Newfoundland Regiment says he's heard some stories he will take to his grave.
Frank Gogos is the Chair of the museum at Garrison St. John's on the shores of Quidi Vidi Lake.
He says families have shared with him stories that cannot be written down. He says sometimes they're very personal, involving something a soldier had done or something that happened to him. Those things, Gogos says, he will not write down, out of respect for the families.
Gogos says even when events were documented, it's hard to piece it together.
The real stories are often written "between the lines", understood only by those who were there. He says it's about taking those pieces and slowly putting them together.
Gogos and his dedicated volunteers and researchers have compiled a lot of the history of the regiment. The museum is open to the public and they welcome families and others interested in the province's military history.
---
Store in Bunyan's Cove Damaged with Pellet Gun
A police investigation is underway in Bunyan's Cove after a convenience store was damaged with what is believed to be a pellet gun over the weekend.
Clarenville RCMP received a report of damage to Champman's Convenience in Bunyan's Cove on Saturday morning.
The RCMP says up to this point, the investigation indicates shots were likely fired from a pellet gun.
No other information is available at this time.
VOCM News is tracking the story and will provide updates as they become available.
---
Mayor of St. John's Condemns Spray Painted Swastikas Popping Up Around City
Mayor Danny Breen says vandalism like the spray painting of swastikas is not acceptable.
Pictures of road signs and fences spray painted with swastikas surfaced over the weekend. The symbol itself has been around for thousands of years, with many associated meanings. However, the adoption of the swastika by Nazi Germany before and during World War II forever changed the symbol's perception.
Mayor Breen says they learned of the vandalism popping up on city property late last week.
He says staff have dealt with the ones they are aware of.
Breen says it's not something they want to see, particularly this time of year around Remembrance Day.
He says no matter what the intention was of the person who put them there, it is certainly unacceptable and not something they want to see in the City.
Breen says they've been dealt with quickly, but if anyone sees any more they should call 311 to report them.
He apologizes to those subjected to the vandalism. He says St. John's is an open and inclusive city, and they want to make sure that these things do not continue.
---
Remembrance Day Observed Across Province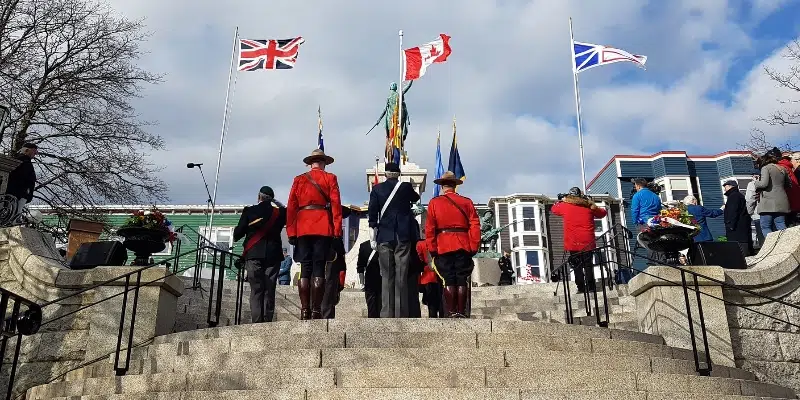 Today is the Remembrance Day holiday in Newfoundland and Labrador.
That means all provincial and municipal offices are closed, as are most businesses.
Some streets in downtown St. John's will also be closed this morning to accommodate the annual Remembrance Day ceremonies at the National War Memorial.
The parade to the War Memorial will begin at the Sergeant's Memorial on Queen's Road at 10:10 a.m. and arrive at the National War Memorial at 10:45. The ceremony begins at 10:55.
VOCM will begin a special broadcast at 9:00 a.m. with Kerri Hodder and Greg Smith, featuring interviews and archival audio.
VOCM's Fred Hutton will be down at the War Memorial for coverage of the Remembrance Day ceremony beginning live at 10:45.
No Significant Weather Impacts on Ceremonies
It's looking as though the weather will not have any significant implications for Remembrance Day ceremonies across the island.
Samantha Roch, a meteorologist with Environment Canada, says conditions in metro will mostly be favorable,however there is a chance of showers late in the morning.
The rest of the island will see that precipitation a bit earlier, however. A low pressure system will sweep across the island from west to east today, bringing with it showers for most and flurries on the west coast. Winds will be a little stronger, gusting between 40 and 60 km/h. Temperatures are expected to drop throughout the day.
In Labrador, flurries will taper off throughout the morning leading to a sunny afternoon. Winds will be gusting up to 50 for most, up to 70 in the north.
---
Heavy Police Presence in Kenmount Terrace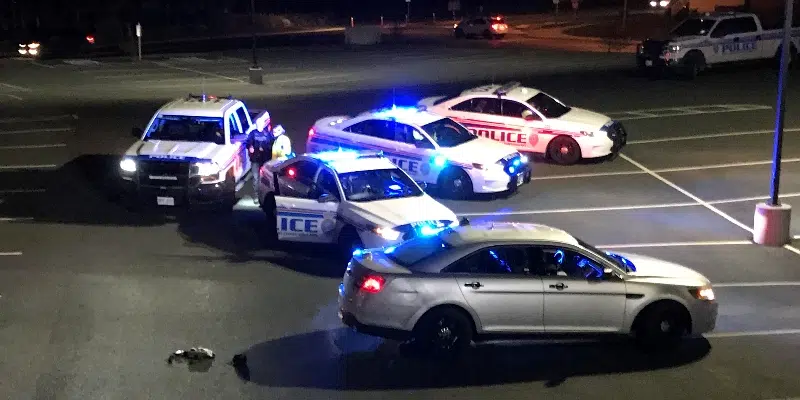 There was a heavy police presence at St. Michael's Church in Kenmount Terrace last night, but the incident is said to be unrelated to the church.
A number of police trucks and cars were on the scene just before 8:00 p.m. Sunday evening as police closed Kiwanis Street from Nautilus Street to Ladysmith Drive.
Police searched an SUV in the parking lot.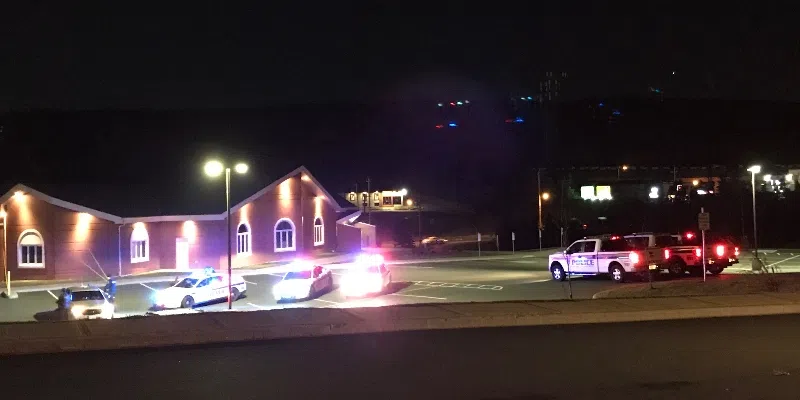 The RNC says an investigation is underway.
VOCM News is tracking the story and will provide updates as they become available.
---
Voter Turnout in NL Highest During Provincial Elections: Vital Signs Report
Voter turnout in this province is highest when it comes to provincial elections.
That's according to the latest Vital Signs report released earlier this week.
Voter turnout for provincial elections has remained fairly consistent since 2007, at about 60 per cent.
Turnout for the federal election saw a big jump in 2015. 60 per cent of the population cast a ballot that year compared to 53 per cent in the previous election in 2011.
This year the overall turnout was down slightly at 58 per cent.
Voter turnout is consistently poor when it comes to municipal elections averaging less than 50 per cent for the last three elections.
---
Berm Construction Project Near Health Science Released From Environmental Assessment Process
A berm to help control flooding in the area of the Health Sciences has been released from the Environmental Assessment Process, on a number of conditions.
The Department of Environment says the south berm has to be constructed the same time as the north berm to protect nearby properties from changes to the floodplain.
The department also says that in order for the berm to carry out its designed function of protecting provincial health care infrastructure in the vicinity of the Health Sciences Centre, the hydrologic function of the surrounding wetlands must be preserved.
Eastern Health is being instructed not to implement land development that further encroaches on those wetlands.
The berm project is unrelated to efforts to replace the old Waterford Hospital. The provincial government's plans are to construct the new facility on a known flood plain.
---
Canada Ocean Lecture Series Coming to St. John's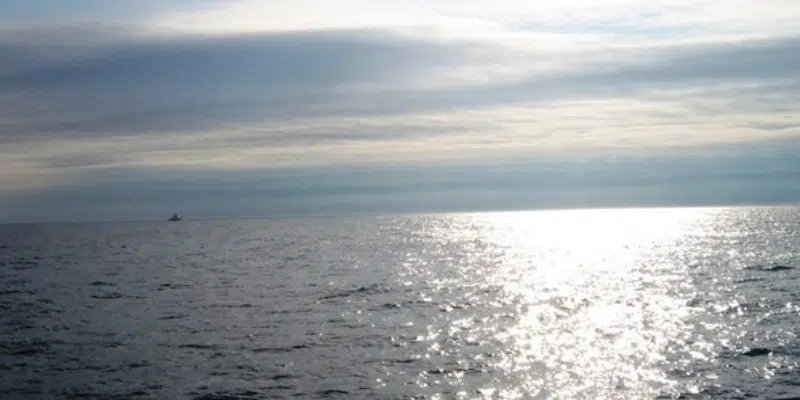 The 2019 Canada Ocean Lecture Series is coming to St. John's as part of Memorial University's Research Week.
The lecture is titled On the edge: Positioned in One of the Richest Ecosystems on Earth.
MUN's Vice President of Research, Dr. Neil Bose will deliver his lecture, which brings awareness to Canada's vast marine environment.
It will take place at the Celestial Gallery at the Johnson Geo Centre on Nov. 13 at 7 p.m.
---
Autism Society Offering Training to Give Sensory Friendly Haircuts
The Autism Society is offering new training that will allow hair stylists to be able to offer sensory friendly haircuts.
The education is offered to any salon across the province who is interested in learning how to offer similar experiences.
The Hair Factory in Churchill Square has completed the training, and will host their sensory friendly hair cut event on Monday, November 18, from 3:00 to 5:30 p.m.
---
Access to Information Requests on the Rise: Report
There has been a big jump in the number of Access to Information requests made to Government in recent years.
That's according to the Harris Centre's latest Vital Signs Report .
In 2013-2014 the majority of requests, 153, came from political parties, followed by individuals at 133. The media in comparison, only made 82 requests.
That changed significantly by 2017-2018 when individuals led the number of Access to Information requests at 1208. 339 requests were made by media, while 160 were made by business. 155 were made by political parties.
67 per cent of Access to Information requests were either partially, or fully disclosed in 2017-2018.
---
Arrests Made in Relation to Stolen Vehicle in CBS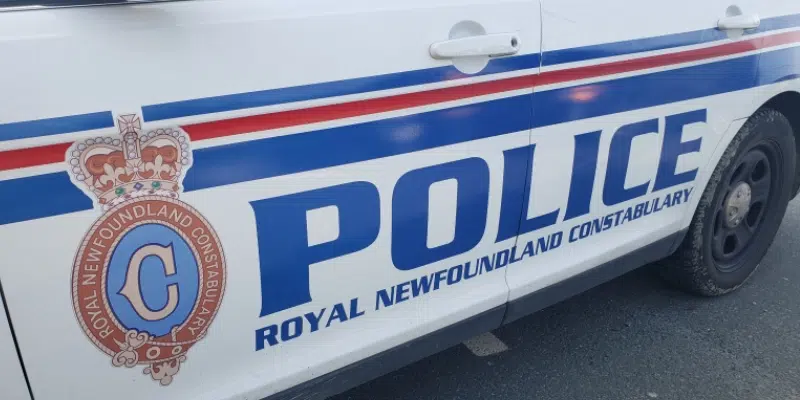 Police have made multiple arrests in relation to a stolen vehicle in Conception Bay South.
Earlier this morning, RNC responded to a report of a traffic complaint in the area of Dominion and TD Bank.
Not much else is known about the nature of the incident at this time. However, police have confirmed more than one suspect was apprehended.
---
Final Report on Muskrat Falls Inquiry to be Completed Next Month
Commissioner Justice Richard Leblanc's final report on the Muskrat Falls Inquiry is still on track for the end of the year.
The two-year inquiry wrapped up this summer, after politicians, industry professionals and critics outlined the factors that led to project delays and cost escalation.
The cost of the mega-project has ballooned from $6.2-billion at sanction in 2012 to $12.7-billion.
First power was originally scheduled for mid-2017, but is now expected in early 2020.
---
Great Whites in Great White North: Scientists Study Why
Is climate change behind an apparent increase of Great White sharks in Canadian waters? The American research group, Ocearch says it's too early to tell.
Ocearch has been studying the movement of Great White Sharks along the east coast of the United States and Nova Scotia.
In recent years, a number of tagged sharks have made their way as far north as the south coast of Newfoundland. A few years ago, Lydia, a massive female Great White made headlines worldwide after venturing as far north as the inner reaches of Placentia Bay.
Last fall, Hilton, a male Great White lingered off the south coast of Newfoundland for several weeks.
Brunswick, another male, has also been lingering off the south coast of Newfoundland in recent days.
Expedition Chief Scientist with the Wildlife Conservation Society, Dr. Harley Newton says they're still collecting data to determine what factors are at play in drawing Great Whites further north.
---
Growlers Score Decisive Win Over Gladiators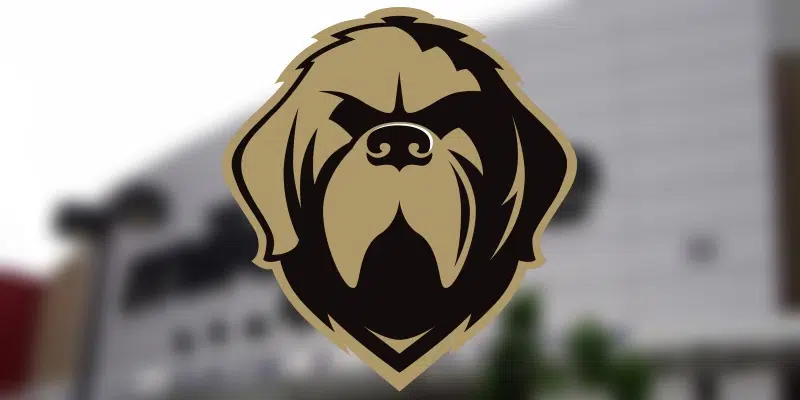 The Newfoundland Growlers came out strong against the Atlanta Gladiators with a 6-2 win last night in St. John's.
This is the Growlers' second win in their four game home stand.
They play again this Friday at Mile One Centre. The Growlers will take on the Toledo Walleye, Detroit Red Wings Affiliate, at 7 p.m.
---
Environmental Assessment Committee Appointed for Controversial Project
An environmental assessment committee has been appointed for a controversial industrial composting facility proposed for the Long Harbour Access Road.
Terrence Penney is behind Newfoundland Industrial Composting Ltd, and has made two previous unsuccessful attempts to develop a similar facility near Holyrood and Whitbourne.
The composting facility will render offal and organic waste from fur farms, chicken processing and fish farms.
The nearby town of Chapel Arm is dead-set against the proposed facility. The town held a public meeting in the spring, and advised the provincial government of their opposition to the proposal.
---
Efforts Underway to Strengthen Local Mining Industry
Mining remains one of the province's most important and valuable industries.
While the industry has seen its ups and downs in recent years, Natural Resources Minister Siobhan Coady says there were almost $4.3 billion in mineral shipments in this province in 2019, employing more than 6,300 people.
Coady says government efforts are underway to strengthen the mining sector with the aim to make Newfoundland and Labrador a globally competitive, top tier jurisdiction for mineral exploration and development.
Coady says a recent Geological Survey discovered traces of rubies and sapphires in the rocks near Hopedale, Labrador. The surrounding geology is similar to that in parts of Greenland where ruby and sapphires are currently mined.
---
Aquaculture Industry Association Welcomes New Policies and Procedures in Wake of Die-Off
The Newfoundland Aquaculture Industry Association say they welcome the ten new policies and procedures that were implemented by the provincial government.
Fisheries Minister Gerry Byrne announced and presented the amended policies for the Aquaculture Industry on Friday.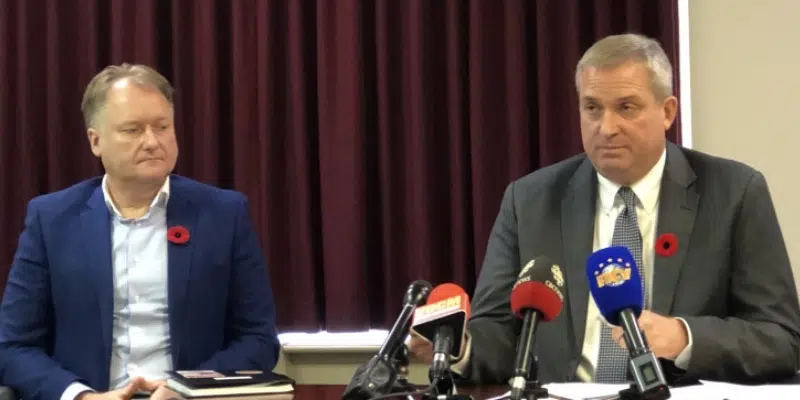 Byrne says public reporting was the focus after the massive die-off of 2.6 million salmon. He says MOWI committed to follow the policies.
He says MOWI provided a written commitment highlighting their path forward. Byrne says MOWI said they were committed to enhance public reporting and speak about situations as they arise.
---
Teens Feeling Pressure Seek Help From Skills Canada
The answer will vary greatly when you ask most high school students what they plan to do when they graduate.
To help with that, Skills Canada NL brought about 30 Gonzaga students to the College of the North Atlantic this week.
Christine Greene is the local president of Skills Canada. She says it's important to give the teens "hands-on, minds-on experience so they can find out about what's out there."
One of the things they focused on this year was the video game industry.
Grade 11 student Liam Bowes, who considers himself a gamer, says he has "no idea" what he will do when he graduates. But Bowes says like most people his age, he "feels pressure from all around" to figure it out.
As for staying here after high school, Bowes says it's unlikely. "I'm outta here… because I want to see other parts of the world."
Bowes is not alone with that sentiment. Three of the four students who spoke to VOCM's Fred Hutton said they have no intention of staying in Newfoundland and Labrador after graduation.
Bethany Drover also has a plan that includes leaving. Facing graduation in June, she plans to move on after post-secondary. "I don't see many opportunities for what I want to do and I want to see other places," she said.
So, what is it like to be a high school student about to graduate in a province where so much attention has been put on how expensive it can be to live here? We put that question to grade eleven student Ravel Rajan.
"I feel pressure to figure it out" he told VOCM News. As for staying here, he said "I don't think so, not because of the economy, but for exposure to other things."
Of the four students we spoke with, the only person who said he might stay is Kyle Smith. The Grade 12 student moved to the province from Jamaica two years ago.
He says "I don't mind staying here, it depends on the opportunity."
In the end, that's really what National Skilled Trades and Technology Week is all about—giving students a brief look at what opportunities are out there.
---
CPAs Offer Financial Literacy Courses to Schools Across Province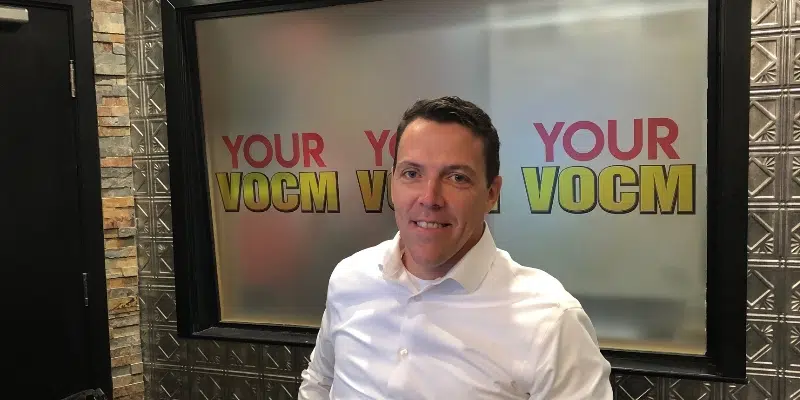 It's never too early to teach kids financial literacy.
That from the Chartered Professional Accountants of Newfoundland and Labrador which provides free financial literacy courses to schools across the province.
November is national Financial Literacy Month.
CEO Jason Hillyard says it's not unusual for people to run into trouble when they don't pay close attention to their expenses and spending.
Common mistakes include carrying balances on credit cards and not putting money away – simple rules that should be taught in schools.
Hillyard says they have a number of student level courses available. They can also do courses for adults.
All a teacher or individual needs to do is invite them in and a volunteer will present a course for an hour.
To learn more about the programs click here.
---