Update on St. John's State of Emergency Coming at 5:00
Mayor Danny Breen and Deputy City Manager of Public Works Lynnann Winsor will provide an update on the State of Emergency this evening.
The two will be joined by a member of St. John's Regional.
The update will take place at the City's Municipal Depot on Blacker Avenue at 5:00 p.m.
VOCM News will be there.
---
MUN and CNA Remain Closed for Rest of Week
Both Memorial University and College of the North Atlantic will remain closed for the rest of the week.
Both announcements were made earlier this afternoon.
The MUN closure includes all of their campuses and facilities in St. John's. They are slated to reopen on Monday.
For CNA, the closures include all St. John's facilities, as well the Carbonear, Placentia, and Seal Cove campuses. The school says any further updates will be posted to their social media.
As well, Academy Canada campuses on Harding Road and Kenmount Road will also remain closed until Monday as well.
---
School Lunch Association Announces Delay in Service for When Schools Reopen
The School Lunch Association is asking parents to pack lunches for at least the first two days after schools finally open.
The State of Emergency has created challenges that will cause delays in lunch services at metro area schools until Wednesday, January 29th.
The School Lunch Association's supplier is working diligently to service clients which will allow services to resume at some sites for Tuesday, January 28th.
They're asking parents to check their social media sites to see which schools will be able to resume service on that day.
The full release from the Association can be found below.
---
Military Not Leaving St. John's Until Services No Longer Needed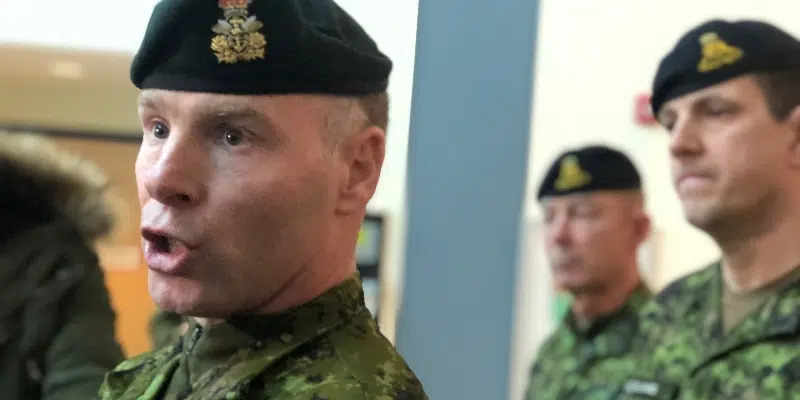 There is no time frame on when the military will pack up and pull out of St. John's.
Brigadier-General Roch Pelletier says provincial and municipal authorities assess the number of calls and requests that are being made on a daily basis.
He says right now, they are not in a stage where they are ready to make any decisions, and it will be done in collaboration. Once their services are no longer necessary, the military will begin planning their exit.
Pelletier says they have another busy day today with many calls coming in for service.
He says the Provincial Emergency Operations Centre has given them approximately 450 tasks in the St. John's area. At this time, they've completed about 380 of them with their 27 teams on the ground.
When asked if the military would eventually help with street and sidewalk clearing in the capital city, Pelletier says that was not the aim.
He says they are here to complement and enhance the capabilities that are already on the ground from a city and provincial perspective. They are here for anything related to safety and emergency, and to make sure they help the people who really need it.
Pelletier went on to say that the city has called in more resources to help them, and it's not really necessary for the military to get involved – while they will stay focused on situations of safety and emergency.
'Tears of Joy' as Military Clears Out Cancer Patient's Driveway
There were tears of joy after members of the Canadian military cleared out a home to allow a cancer patient to return home after being released from hospital following the storm.
Shawn Lewis says his father-in-law, Bill Williams, was released from hospital with stage four lung cancer and the snow in the front of the house kept them from getting him into his home.
Lewis, a military veteran himself, called the emergency line to get the military down to help, but encountered a busy signal.
When he finally got through, Lewis says the response was incredible.
He sends his heartfelt thanks and sincere gratitude to the military and to those coordinating the effort.
The Full Quote from the Facebook post can be found below:
"This is my Mom and Dads house. For those who know me well things are not good for them right now as my Dad is fighting stage 4 Cancer and was in hospital during the storm!

Thank you to my husband who called 300 times to 311 yesterday to get through for help! Thank you to our Military who swept in last night and cleaned it up! I am so proud of our men and women who serve and so grateful to have them help us in times of need. Thank you!"
---
Free Parking Offered as City Works to Clear Streets
Parking is free at St. John's International Airport today and Thursday. As well, the City of St. John's is giving free parking overnight at downtown garages to get cars off the streets as the clean-up continues.
Parking will be free all evenings from 7 p.m. to 7 a.m. at the City Hall Parking Garage on Gower Street, excluding when there is an event at Mile One.
Parking will be free at the 351 Water Street garage from Sunday to Thursday from 7 p.m. to 7 a.m. On Friday and Saturday nights, regular parking rates will apply.
Finally, parking at the Atlantic Place Garage will be free Monday to Thursday for up to 75 vehicles on Levels D and E. Cars must be in the garage between 6 and 9 p.m. and will have to stay there until after 6:30 a.m. when the exit door is open with an attendant in place.
Vehicles in place after 8:00 a.m. will pay regular rates.
The City reminds residents that the free parking arrangement is for residents in the downtown only, and proof of address will be required.
---
RNC Lends Assistance for Multiple Services During Storm Aftermath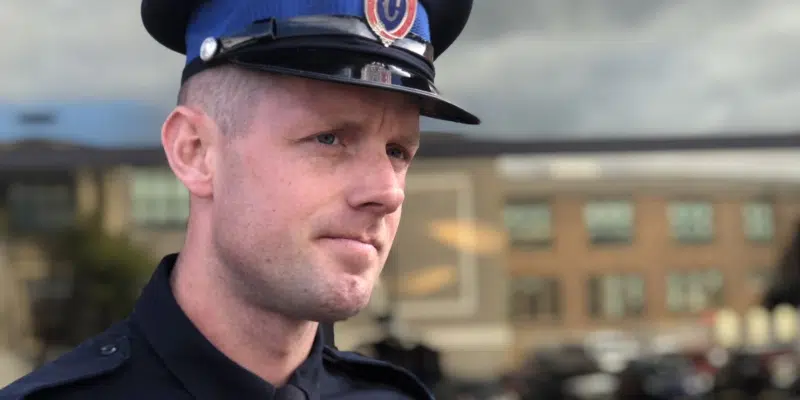 The State of Emergency has been a busy one for RNC.
Constable James Cadigan says yesterday officers were focused on ensuring that people were able to access grocery stores safely, but that's just one of the many things police are doing during this extraordinary time.
He says they're working with Nalcor and Transportation and Works to help get people their medications and take patients to their dialysis appointments and cancer treatments. They're also providing support to The Gathering Place and the provincial emergency operations centre.
---
Gathering Place Working to Inform Marginalized People during State of Emergency
The Gathering Place is doing what it can to help marginalized people through the current State of Emergency.
Director of Social and Clinical Programs with the Gathering Place, Ashley MacDonald, says many of the people who avail of their services have no means to get the latest information on the State of Emergency and get the help they need.
They have people coming to them who haven't eaten for days and who are out of the loop and don't know where to go or what to do. They have people asking about warming stations and access to food banks, and it's still difficult to get answers.
---
Fuel Price Adjustments Resuming Next Week
There will be no adjustments to gas prices this week.
The Public Utilities Board says due to the ongoing State of Emergency in St. John's, price adjustments for automotive or heating fuels will resume next week.
Price adjustments will resume next Thursday.
---
CHANNAL Reopens Warm Line After State of Emergency Temporarily Halts Resource
CHANNAL's 'Warm Line' is back up and running after five days off due to the State of Emergency.
The Warm Line is considered a "pre-crisis" line that was created for people who are not necessarily at a crisis with their mental health. They may need someone to talk to, or need some support to prevent the crisis from happening.
Executive Director Paula Corcoran says they were able to get the line operating within two hours, once they got the go-ahead from the city. She says one of the complications was that they were not deemed essential, because they were not a "crisis" line.
Corcoran says like any other service, once the State of Emergency came into effect, they were unable to travel to the building, and it wasn't able to be cleared out. Once staff got in on Tuesday morning, their message machine was maxed out, with a list of 40 or more people they needed to contact.
They sometimes get 2,000 calls a month.
Corcoran claims that a conversation around changes will have to happen. She says it's a conversation that will now pick up with the Department of Health and Community Services around re-evaluation, as a lot of people rely on the service, and they could have contributed greatly during the emergency.
The number to reach the Warm Line locally is 753-2560.
For those outside the St. John's area, the toll-free number is 1-855-753-2560.
They are open seven days a week from 10 a.m. to midnight, and encourage people to leave a message if their call isn't answered immediately.
---
Grocery Distributor Allays Fears Over Food Availability
There were lengthy lineups yesterday throughout the capital city region as people stocked up on needed supplies as the city allowed grocery and convenience stores to open for a few hours.
That had many asking whether the capital city could run out of food.
Don't fear, says the Vice President of Business strategy at Atlantic Grocery Distributors in Bay Roberts—the largest distributor to wholesale retailers on the island.
Erin Higdon says it's business as usual with some adjustments caused by the State of Emergency.
She says food is still getting across the island and arriving safely at their warehouse.
The delays are in delivering food to the capital city region because of the State of Emergency.
---
Correctional Officers Tackle Shifts Spanning Multiple Days During State of Emergency: NAPE
Correctional Officers have a long and tough 12 hour shift on the best of days, but this past weekend some of them worked 48 to 60 hours at Her Majesty's Penitentiary without complaint, says NAPE President Jerry Earle.
Patience is essential in this storm cleanup and that is exactly what he has seen when it comes to the work they put in over the past five days.
He says they were not given the go-ahead right away like the healthcare workers, but they had employees who wanted to come relieve their coworkers.
Earle indicates it is common for officers to work a double shift and even then they do not get the recognition they deserve.
This situation was different, but he says the temperatures inside the walls of the prison were pretty average considering the circumstances.
The environment at HMP on the best of days is extremely challenging, and Earle states that he heard that the correctional officers stepped up and worked through the conditions for the storm.
---
Callers Report Difficulty Reaching Emergency Assistance Line
People are having trouble getting through to the provincial help line for storm-related issues, but the minister says they have 15 RNC cadets staffing the lines.
The minister responsible for emergency preparedness, Derrick Bragg, stresses that the 729-3703 help line is for vulnerable people only. People have been trying for days to get through, but the Minister says to keep trying.
There is no answering machine because they prefer to answer each call as it comes in.
Some examples are people who have run out of oxygen and cannot get out, or someone whose guide dog needs to get out.
Bragg says they have also taken calls from people who are out of province and wish to arrive home to a clean driveway.
That's not where they're at at this stage.
Meanwhile, the province has set up a text line for people who are Deaf or hard of hearing to request assistance, at 709-691-9493.
---
Facebook Group Lends Hand to Those in Need During Storm Recovery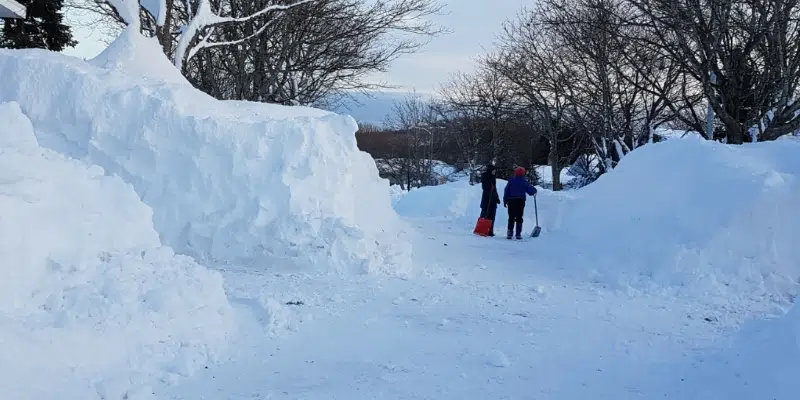 As the state of emergency drags on and some people still trapped in their homes, many are running out of certain essentials.
Some are turning to Need Something? Got Something?—a Facebook page with nearly 20,000 members.
The page was created to help connect people who own gently used items they no longer want with those in genuine need.
Everything on the page is free—whether its food donations, furniture, diapers or formula.
Carla Crotty, who created the group, says at times like this, items available for free are really important.
She says the page has seen an increase from vulnerable members who are running out of essential items.
While many have had the daunting task of digging out their cars, others have pre-existing barriers when it comes to transportation. Many people don't have vehicles, and rely solely on public transportation to get groceries, or to their appointments.
Crotty reiterates when Metrobus isn't running, getting out is difficult.
---
Young Driver Owing $8,000 in Fines Arrested on Number of Offences
A young driver, who already owes thousands in outstanding fines, has landed in a heap of trouble after being pulled over in the capital city last night.
A traffic complaint led police to the 18-year-old man in the capital city's west end around 8:00.
It was discovered that he was driving without insurance, with a suspended licence, and was committing a number of offences under the highway traffic act.
On top of that, he owed $8,000 in outstanding fines.
Police took the teen into custody overnight, and seized his vehicle.
---
St. John's Airport Resumes Operations After Days of Cancelled Flights
Operations have resumed at St. John's International Airport after five days of flights being grounded.
After receiving the nod from the capital city, amid its sixth day under a State of Emergency, the airport resumed operations at 5:00 this morning.
The City of St. John's has permitted travel to and from the airport, but the airport authority is urging people to avoid heading to the airport unless you have a flight or are picking someone up.
As the city is still under a state of emergency, the airport also encourages people to carpool or use taxis when possible to alleviate congestion on roads in the capital city.
Recovery flights have been set into motion, along with normal operations, to make up for days of cancellations at St. John's International. Passengers are advised to arrive early.
In addition to regular capacity, Air Canada is adding 1,200 extra seats to Halifax and Toronto the next two days, while WestJet is adding 1,300 seats and eight flights.
The first flight from Halifax is due to arrive just before 10 a.m.
---
Storm Fallout Continues to Halt Mail Delivery in Avalon East
Postal services in the province continue to be impacted by the storm.
As per Canada Post, services are not expected to resume until next week; currently there is no delivery in the Avalon East area, including St. John's and Mount Pearl.
Officials say they are keeping the safety of employees in mind.
With the closure of St. John's Airport over the past five days, Xpressmail and letter mail have not been able to arrive or get out.
Once the emergency lifts, customers can plan on delays and waits as they catch up on their delivery.
---
Another Week of Lower Fuel Prices in the Forecast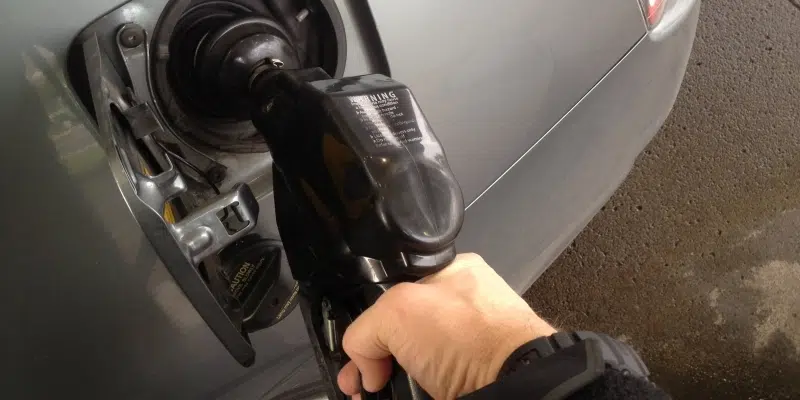 It looks like the province will see another week of lower fuel prices, but gasoline may barely budge.
The Consumer Group for Fair Gas Prices says there may not be much difference when filling your cars this week, as gas could lower by about two tenths of a cent per litre.
Diesel, meanwhile, will likely drop by about 2.6 cents.
Heating and stove oils also show a drop of about 2.7 cents per litre.
---
Some Restrictions Lightened as St. John's Enters Sixth Day of State of Emergency
The City of St. John's says the State of Emergency will remain in effect on Wednesday, but Mayor Danny Breen says it's too early to say whether it will be extended for a seventh day.
Breen says they are making good progress in the recovery effort, and that staff are monitoring conditions—but they have to be in a position where people can move about freely.
St. John's International Airport will resume operations at 5:00 a.m. and taxis were allowed to resume full operations as of midnight.
The City is also permitting oil companies to begin delivering home heating fuel.
Family doctors and specialist clinics are able to open at 8:00 a.m. to help alleviate pressure on hospital emergency rooms.
Robin Hood Bay landfill will open for commercial haulers and other municipal customers only; residential drop-off will not be open.
Pharmacies and food stores are permitted to open from 10 a.m. to 6 p.m. as they did yesterday. Gas stations are also permitted to open.
The new 24-hour parking ban outside the downtown and business district is in effect; parking is not permitted on City streets in this area.
Residents are allowed to drive to and from these exempted locations under the State of Emergency. The City encourages carpooling whenever possible.
The stress the importance of staying off the city streets to the fullest extent possible so snow removal can happen as quickly as possible.
The opening of family doctors and specialist clinics as of 8 a.m. today does not apply to Eastern Health.
Emergency and urgent care facilities in St. John's will be open.
Eastern Health is reminding the public that all patients will be contacted directly if their procedures, surgeries or appointments are proceeding within its facilities.
Snow Clearing Continues
Snow clearing is continuing in downtown St. John's.
Today crews plan to work on a number of streets in the area including Monkstown Road, Rennies Mill Road, Queen's Road, Prince of Wales Street, Barter's Hill, Casey Street, Springdale Street and Empire Avenue.
Crews were anticipating to complete Hamilton Avenue, Hamilton Avenue Extension and Harbour Drive overnight.
At this time, the city is clearing streets only.
---
Search Suspended for Missing Man in Roaches Line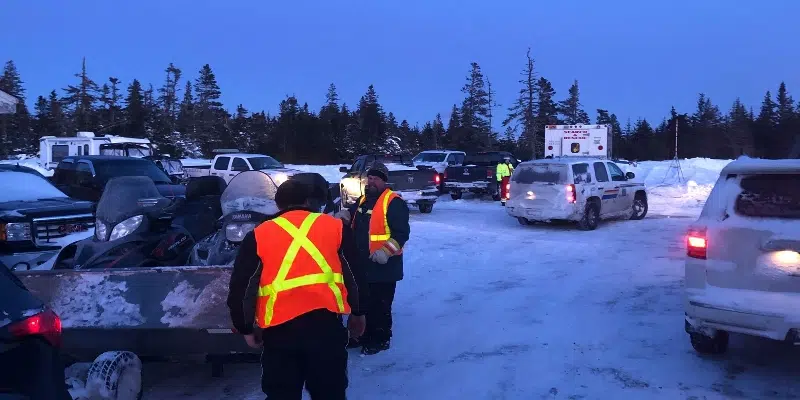 The search for 26-year-old Joshua Wall in the Roaches Line area has been called off.
Bay Roberts RCMP say despite exhaustive efforts over the past four days, the search is paused unless new information becomes available or conditions change.
Wall went missing on Friday, January 17, in a blizzard.
RCMP continued the search on Tuesday along with the Avalon North Wolverines, Rovers Search and Rescue and Central Avalon Ground Search and Rescue.
Crews searched on foot, on snowshoes, Argo and snowmobiles.
Police are continuing to urge residents in the area to check their properties, including backyards, sheds and barns, as well as vehicles, in the event Wall sought shelter there.
Anyone with information is asked to contact Bay Roberts RCMP at 786-2118.
---
Government Looking for Short-Term Measures to Support Minimum Wage Workers Following Storm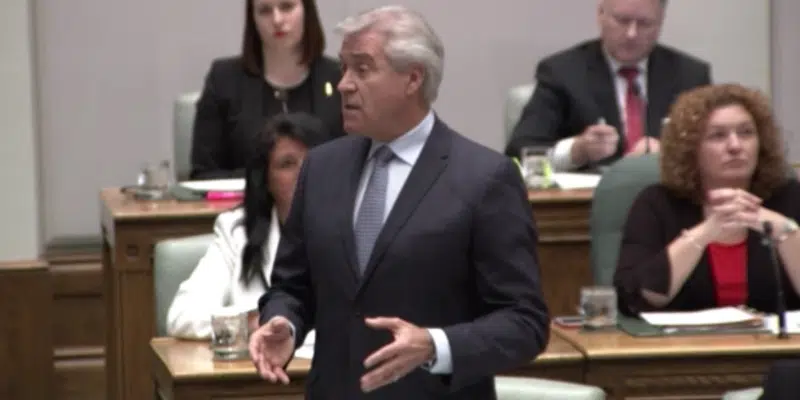 Premier Dwight Ball says they are looking at short-term measures to support minimum wage workers who have not been able to work due to what's being called snowmageddon.
Many working minimum wage jobs haven't been paid, and won't be paid because of time lost due to the blizzard.
On top of that, many who use food banks have been unable to get there.
Premier Ball says if it was a two or three day event people could manage, but now into day five under a State of Emergency, people need to get back to work.
He says putting more focus on cleanup means they will be able to get back to work. However, they are considering other short-term measures.
Ball says it's something that is on his mind and he's been speaking to cabinet ministers to see what government has available.
Many employers have already stepped up and said they will pay those who lost hours under the State of Emergency. But, not everyone is in a position to do that.
The Premier says the focus right now is to support the City with the cleanup so people can get back to work. Then, they will look at the programs they have in place to support people, in particularly, low-income earners.
---
Signal Hill, Cape Spear Closed to Public Until Further Notice
Public access to Signal Hill and Cape Spear are closed until further notice.
Parks Canada says the two sites are currently inaccessible, and currently pose a significant risk to public safety.
Drivers, hikers and pedestrians are asked to avoid both sites and to respect barriers placed at entrances to both areas.
---
St. John's Courts to Stay Closed During State of Emergency
All courts in St. John's will remain closed during the current State of Emergency.
Court matters are being rescheduled and details are available at the various courts' website or by calling numbers provided.
Supreme Court:
https://court.nl.ca/supreme/
Telephone line is 729-1137 ( re-scheduling message)
Court of Appeal:
https://court.nl.ca/appeal/
Telephone line is 729-0066 (re-scheduling message)
Provincial Court:
https://court.nl.ca/provincial/
Telephone line is 729-1539 (re-scheduling message)
---
Harbour Main Area Assessing Damage Following Storm Surge
While the city of St. John's continues to dig out from record-breaking snowfall, the Town of Harbour Main-Chapel's Cove-Lakeview is assessing storm surge damage from this weekend's storm.
Councillor Bob Myers says the storm surge is like nothing they've ever seen before, ripping culverts from the ground and scattering them across the beach.
He lives about 60-70 feet from the water's edge, but ocean debris and wood from the old cribbing ended up beneath their car.
---
City of St. John's Allowing Airport Operations to Resume Wednesday Morning
The City of St. John's is going to allow an exception to the St. John's International Airport to resume operations at 5:00 tomorrow morning. Airport employees are permitted to travel to work prior to 5 a.m. .
Effective midnight tonight, taxis are permitted to resume operations.
The city is asking passengers travelling to the airport to carpool or take a taxi if possible to reduce traffic on the roads.
A further update on the state of emergency will come this afternoon.
---
Conditions too Hazardous for Buses, Students on Foot, says Tony Stack
Schools in the metro region will stay closed for the remainder of the week, while exams scheduled for next week have been pushed back another week as the State of Emergency continues.
Director of Education with the English Language School District Tony Stack says the decision was made in conjunction with area municipalities.
It was decided it was simply too hazardous to have school buses and student on foot on the roads at this time.
Stack says while unusual in the St. John's area, other parts of the province are accustomed to losing extended periods of instructional time and that time will be made up in the coming weeks.
Meanwhile, metro area schools under the French Language School District will remain closed for the rest of the week. Mid-term exams for high school students are postponed until the week of February 3rd.
---
More Numbers, Equipment, Staff Added as Military Assistance Demand Persists
Premier Dwight Ball says call volume for help from the Canadian Armed Forces has been extremely high so additional numbers have been added for those who need help digging out.
The Premier says as of early this afternoon, the armed forces had 270 tasks assigned to them and 160 completed.
Dwight Ball says there are some incredible stories emerging.
Including one of a gentleman in a wheelchair who had been stuck inside for days, but is now cleared out.
Ball says more equipment and staff will be available from the provincial fleet for the city of St. John's starting tomorrow.
Extra staff and equipment are also coming from as far as Gander, Grand Falls-Windsor, Deer Lake and Corner Brook.
The military will remain in the area for the time being offering assistance.
He says neighbouring communities are now in a position to assist St. John's with the cleanup. As for financial assistance, the Premier says they're willing to work with municipalities as they get a better handle on the full impact of Friday's storm.
As for St. John's Regional Airport, Premier Dwight Ball says they're working with the city to resume flights.
Not only are people stranded at the airport, but there are people stranded on the mainland trying to get home as well.
If you need help from the military, please call the following numbers 754-2489 and 729-3703
---
St. John's Resident Stresses Importance of Knowing Your Neighbours
A resident from the east end of St. John's says the blizzard taught her to do something she should have done two decades ago.
Jenn Deon says getting to know those who live in your area and having their numbers is something everyone should been on top of in case of emergencies.
Would it be great for people to be able to call me and say 'Hey Jen, you guys got some eggs? Or we need some milk for the baby.' I just can't believe it's taken me 20 years to go around and give everyone my number.
Deon also says, just like everything else, there's an app for that. It's called Next Door and it connects neighbours and people in the surrounding area.
---
Major Update on Storm Efforts Minutes Away with Premier
We will be getting a significant update this afternoon on the cleanup efforts from Snowmageddon 2020. Premier Dwight Ball, Transportation Minister Steve Crocker and other politicians and officials have called a news conference for 2:00 p.m.
VOCM's Ben Murphy is covering the story and we will carry the news conference live on VOCM.
---
Avalanche Canada Warns of Potential Danger After Record-Breaking Snowfall
Avalanche Canada is warning residents to be careful on and around steep open slopes with the record-breaking snowfall.
Avalanche Canada warns again sliding or playing around ravines, gullies, or small hills, all of which are potentially dangerous at this time.
Warning service manager with Avalanche Canada, Karl Klassen says with the amount snow that fell, they know the snowpack will be unstable.

Any slope steeper than 25 degrees has the potential to be hazardous.
Avalanche Canada is warning those who venture outdoors not to go alone and be aware of their surroundings.
Find additional information at this link.
---
Grand Falls-Windsor Sends In Snow Clearing Reinforcements
More snow clearing reinforcements are on the way.
Grand Falls-Windsor Mayor Barry Manuel says they're joining in the clean up efforts on the Avalon Peninsula.
They're sending three staff, a diesel snow blower and a semi dump to the City of St. John's. Manuel says Grand Falls-Windsor is always prepared to step up and help their fellow communities, and they're stay for as long as it takes to open up city streets.
Grand Falls-Windsor joins a growing number of municipalities who have joined in the clean up effort, including Gander and the city of Corner Brook.
---